Court records outline timeline of Bonneville Co. murder investigation
Published at
|

Updated at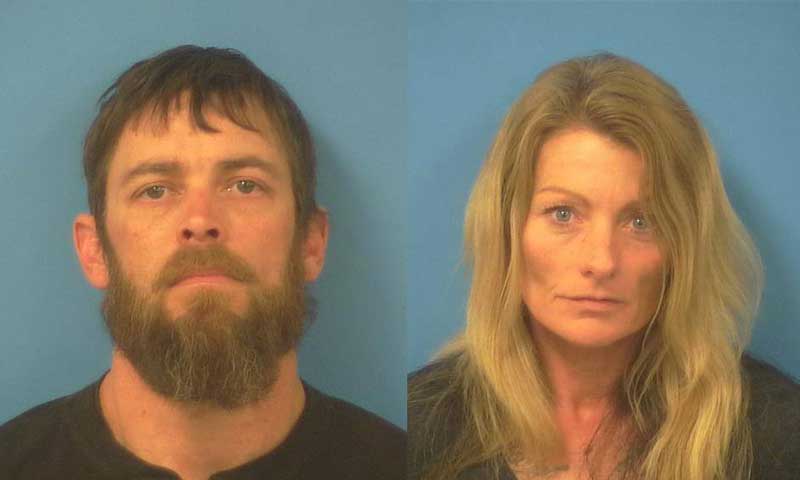 IDAHO FALLS — Sworn statements from investigators detail events surrounding the death of a Bonneville County woman last month.
The statements also allege a six-month affair between Christin Caldwell's boyfriend, Jeremy White, who is accused of killing her, and Deena Aday, who fled town with him.
The details of the case were released in audio recordings of several probable cause hearings.
Jeremy White and Christin Caldwell. | Courtesy photo
During the hearings, investigators said the last time Caldwell had contact with her family was the evening of Monday, Nov. 7 when Caldwell video-chatted with one of her daughters. Investigators would later learn, through text messages sent by White to friends, that during that evening Caldwell discovered White had been having an affair with Aday, who was his co-worker.
Caldwell and White had been in a relationship for more than 10 years.
The next day, White spoke to Caldwell's family, telling them Caldwell was ill and that they were heading to Pocatello to look at fireplaces. On Wednesday, there was no contact from White or Caldwell.
FAMILY: MURDER SUSPECT TEXTED THEM WITH VICTIM'S PHONE
On Thursday, Nov. 10, Caldwell's family went to her home on 35 West. The family realized the dogs in the home were running low on food and seemed to have been without water for some time. Family members also noticed some of Caldwell's much-needed medication was left behind, and her Jeep was missing.
A chilling discovery
Caldwell and White had security cameras in their home. When Caldwell's family came to look for her, they reviewed the cameras' video.
On footage from Nov. 7, White is seen walking around the kitchen carrying a rifle. Caldwell also is seen in the home and the two appear to be having a discussion. White puts the rifle down, takes off his jacket and leaves the view of the camera.
The next video captured shows the camera pointed toward the ceiling.
Caldwell's family reported Caldwell and White missing to police. Investigators reviewed the video and searched the home for evidence that could lead to their possible location or reason for leaving.
Caldwell's body was found inside this Bonneville County home. | Stephan Rockefeller, EastIdahoNews.com
Christin Caldwell
According to investigators, while searching the home, police located an 8-by-10-foot, three sided room on the east side of the basement. The room, like the rest of the basement, had a dirt floor. Investigators noted the dirt in this room appeared to be recently disturbed. According to sworn statements, there was dirt stuck to walls consistent with "digging and throwing dirt." Several boot marks were in the freshly overturned dirt.
Police received a warrant to dig up the basement floor. Investigators described the area as a shallow grave. Caldwell's body was discovered in a makeshift coffin built out of wood, cardboard and particle board. Her body was wrapped in a white cloth and resting in the fetal position on a pad and fleece blanket.
The only obvious sign of injuries on Caldwell's body were "ligature marks" on her neck, authorities said. She was described as severely decomposed.
Fleeing to a new life
According to court records, Aday's husband learned about his wife's affair on Nov. 7. Aday spent the entire day with her husband Tuesday. Early Wednesday morning, around 3:30 a.m., White sent Aday a text message stating that they needed to get out of town.
According to reports, Aday met White at a gas station and together they went back to White's home. Investigators said they believe Caldwell had already been murdered and buried.
MURDER VICTIM'S SISTER DESCRIBES HER AS KIND, DEVOTED TO FAMILY
According to court records, Aday told investigators in Nye County, Nevada, that while at the home with White, she helped him pack some belongings. After leaving the home, the two went to an ATM and withdrew cash from Caldwell's account.
Police were able to track part of their travels through their cell phones. According to investigators, they left the Idaho Falls area going south toward Pocatello on Interstate 15. They stopped at Massacre Rock for about 30 minutes, then continued south toward Jackpot, Nevada. They then came back north on Idaho Highway 30 to Mountain Home, then toward the Boise/Caldwell area.
Shortly after that, their trail diminished.
Aday told investigators they camped out a few nights. They threw her, White's and Caldwell's phones out the window to help keep them from being tracked. At some point during their travels, White changed the license plates on Caldwell's Jeep. Aday told investigators she assumed they were trying to evade capture because the Jeep was stolen from Caldwell.
Arrest
White and Aday were arrested Friday in Pahrump, Nevada.
White left Idaho Falls in this Jeep and was arrested during a traffic stop Friday, according to authorities | Photo courtesy Darbie O'Donnell
During the arrest, police discovered an AR-15 rifle and two handguns. They also found a pair of boots that appeared to have blood on them. Investigators are working to identify the boots as the same boots used to stomp dirt above Caldwell's grave.
White is being held on a second-degree murder warrant. Aday is being held on an accessory to a felony warrant.