UPS driver honored for saving family from burning home
Updated at
EDITOR'S NOTE: EastIdahoNews.com is teaming up with the American Red Cross of Greater Idaho to honor ordinary individuals who have done extraordinary things to help others.
The 11 winners of the 2017 East Idaho Real Heroes awards were announced March 2. Each day EastIdahoNews.com will feature a different winner.
IDAHO FALLS — A United Parcel Service driver was honored Thursday for saving a woman and her sons from what could have been a deadly house fire.
Sheldon Bonnell, a UPS freight driver for the past 16 years, was on his early morning route May 20 when he spotted the home burning on the Swan Valley Highway around 2 a.m.
"About two and a half miles from their home, I could see what I thought was a brush fire," Bonnell tells EastIdahoNews.com. "As I got closer, I realized it wasn't a brush fire but an actual building."
Michelle Evans and her two boys were sleeping inside their rural Ririe home. Her husband was out of town when she heard their dogs barking outside.
Michelle Evans and her two boys were sleeping inside their home when the fire started. | Michelle Evans.
"I ran to the window and saw something parked down the street that looked like a semi-truck," Evans recalls. "I almost went back to bed but thought twice. When I looked closer, I saw a man at the gate trying to push it open."
The man was Bonnnell. Evans opened the window to ask what he was doing.
"He yelled, 'Get out of your house! Your house is on fire! You have to get out now!'" Evans says.
Large tree limbs above the garage were burning and the siding on the house was melting.
Evans ran downstairs, grabbed her boys and bolted from the home.
Bonnell made sure the dogs were safe and carried the Evans' pet lamb across the street as they all waited for fire crews to arrive.
"Inside I had no idea anything was going on," Evans says. "Our house is stone, and we wouldn't have heard anything until the fire was inside the house."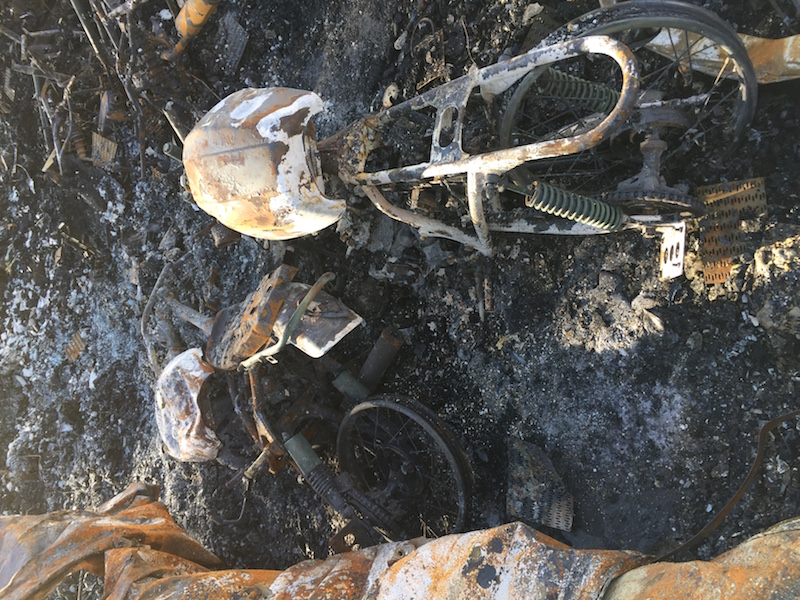 Firefighters arrived 13 minutes after Bonnell stopped to help. Crews were able to control the fire before it spread to the home but the garage, with multiple motorcycles inside, was considered a complete loss.
Investigators believe a heat lamp warming chickens near the garage fell over and may have started the fire.
"The next car went by the house nine minutes later, so me being there at that particular moment was kind of lucky," Bonnell says. "I'm so happy the Evans were able to get out safe and only lose their garage, if that's what had to be lost."
UPS driver Sheldon Bonnell was honored by the American Red Cross of Greater Idaho Thursday. | Stephan Rockefeller, EastIdahoNews.com.
The American Red Cross of Greater Idaho selected Bonnell as one of 11 "East Idaho Real Heroes" for 2017. He was honored for his heroic actions during a luncheon Thursday.
"He's my hero," Evans says. "I've never had a hero before, but I'd definitely say he saved me and my boys that night."
OTHER 2017 EAST IDAHO REAL HEROES STORIES
SUGAR CITY BOY SAYS ANGELS HELPED HIM SAVE HIS DAD AFTER A CAR FELL ON HIM
IDAHO FALLS WOMAN HONORED FOR HELPING SAVE GUNSHOT VICTIM ON CAMPING TRIP
ST. ANTHONY POLICE OFFICER HONORED FOR SAVING TEENAGER FROM DROWNING
IDAHO FALLS FIREFIGHTERS HONORED FOR SAVING TORTOISE FROM CLASSROOM FIRE