Good Question: Where is the 'middle of nowhere?'
Published at
|

Updated at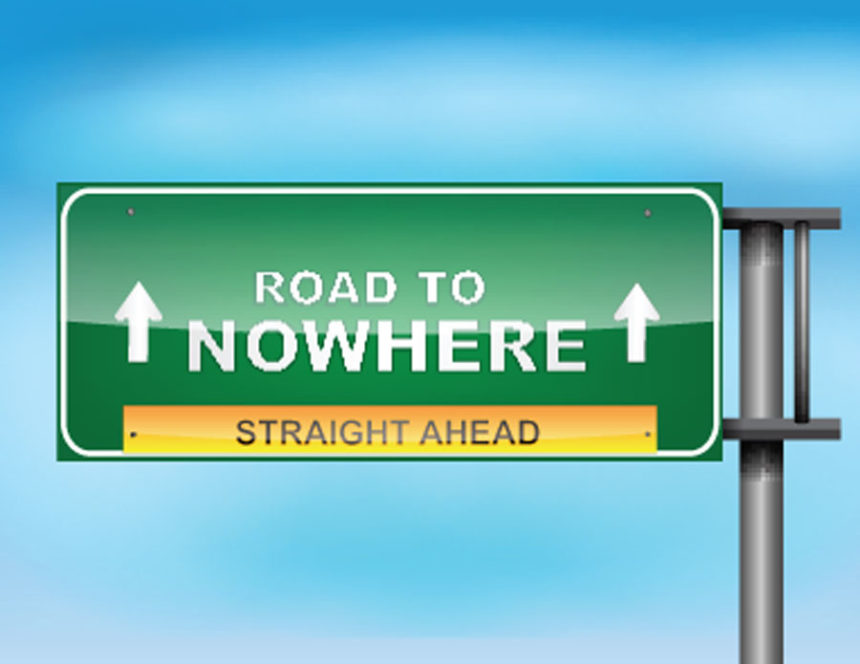 The phrase "middle of nowhere" often gets tossed around in reference to places that are extremely remote. But recently, I learned there are several places that have been scientifically determined to be the middle of nowhere.
Before I get into that, let me tell you about my recent brush with "nowhere."
About a year and a half ago I was living in northwestern Wyoming. About two months after I moved there, I got an itch one weekend to travel to Utah to visit family.
I provided Google with the address of my destination and discovered it would take seven and a half hours to get there.
No problem, I thought. This will give me a chance to catch up on my long list of podcasts.
To make the most of my time with family, I opted to make the journey on a Friday night. After compiling my playlist together, stocking up on snacks and getting my GPS coordinates ready to go, I started my journey down Wyoming Highway 120.
A half-hour into it, I found myself in a town called Meeteetse, population 327. For the next several hours, I traveled through other metropolitan areas (not really) like Thermopolis, Shoshoni, Riverton, Lander and even Atlantic City (which is nothing like Atlantic City, New Jersey, by the way).
About this point, I noticed immediately how dark it was. I was used to seeing lights in the distance during night trips. There wasn't a light in sight.
Just before I got to Green River, I noticed the battery power on my phone was low. I had forgotten to bring a charger with me and I knew I wasn't going to make it without my phone. On top of that, I was running out of gas.
I figured there would be a town in the next few miles. There wasn't. I found myself drifting farther into a black abyss to which there seemed to be no end.
Stock image
About 30 minutes later, a red light appeared on my dash indicating my fuel was low. I had passed a gas station about the same time I noticed it was dark and decided to back track to fuel up my car.
I made it back, but my phone did not. I fueled up and decided to book it to make up for lost time. I was flying blind at night in unfamiliar territory going about 10 miles over the posted speed limit.
Somewhere between Green River and Kemmerer, I missed a turn and drove head-on into a field at 60 mph. I knew I was in trouble when I heard a loud thud underneath the hood.
At this point, I felt very much like deer look when they see headlights. I managed to drive the car out of the gutter and park it on the side of the road.
There I was at 11:30 at night in the middle of nowhere with fluid leaking from my car and no phone.
If it weren't for the nice truck driver who stopped to help me, I would probably still be there.
I learned a few things on that trip.
Where is the middle of nowhere?
The middle of nowhere is not actually in Wyoming. The real location is in Montana — and parts of Idaho. That's a comforting thought after the traumatic event I had been through.
In February, The Washington Post reported the middle of nowhere is located in Glasgow, Montana.
They cited the following reason for coming to this conclusion,
"Glasgow, home to 3,363 people in the rolling prairie of northeastern Montana, is farthest — about 4.5 hours in any direction — from any metropolitan area of more than 75,000 people."
Mark Dulaney moved to Glasgow with his family in 1971 to sell printers and supplies, according to The Post. He hunts pheasant and whatever game is in season and said he enjoys the isolation.
"It's pretty slow moving here," Dulaney told the Washington Post. "When we go to Billings, it seems like a big metropolis."
Frank Church Wilderness area | Stock image
If you take population out of the equation, the most remote area in the 48 contiguous states, according to the Post, is the Frank Church Wilderness area.
An article from Boise State Public Radio indicates an organization pulled together a database of all interstate routes, highways and roads to see which parts of the country really are the most remote.
"One of the largest spots categorized as 'nowhere' is smack-dab in the middle of Idaho," the article states. "It's mostly all forest land. And as many Idahoans know, there isn't an easy or direct route to drive from the bottom of the state north to the panhandle."
Photo courtesy Vizual Statistix
The article does not mention the place by name, but but based on this map, it looks like the place they are referring to is Payette National Forest or Salmon-Challis National Forest.
My journey through the "middle of nowhere" in Wyoming made an indelible impression upon my mind. I do not think of "nowhere" as a happy place. While I am proud to call Idaho home, I don't think I'll be making a trip to these places anytime soon.
If you want to submit a Good Question, email rett.nelson@eastidahonews.com. Use "Good Question" in the subject line.
LISTEN TO PREVIOUS EPISODES BELOW