Is prison food as bad as everyone says? See for yourself
Published at
|

Updated at
IDAHO FALLS — It's common to hear the phrase "tastes like prison food" when someone describes an unsavory meal. We decided to find out what Idaho prisoners are eating and if it really deserves the bad reputation.
The Idaho Department of Correction and larger east Idaho jails obtain their food from distributors like Sysco Idaho and Nicholas and Company. The meals are prepped by a variety of other food service companies and delivered to IDOC.
An IDOC inmate's day could consist of pancakes for breakfast, tacos for lunch and spaghetti for dinner. Not too bad, right?
It depends. An inmate could also get a patty that looks like some kind of meat alongside some kind of sliced vegetable. At least it looks like it might be a vegetable — maybe an apple or some sad-looking potato wedges?
But the brownies look amazing and, apparently, IDOC receives requests for its chili recipe so we decided to share it with our readers at the bottom of this story.
SEE A SAMPLE MENU FROM IDOC HERE
Whatever inmates are eating, not all of the food comes from large distributors. Some local jails have contracts allowing them to purchase local produce if it costs the same or is cheaper than what large food providers can offer.
"There's a guy here in Blackfoot that has a big apple orchard," Bingham County Sheriff's Office Capt. Mark Cowley told EastIdahoNews.com. "About September when his apples get ready — instead of buying apples that are coming out of Washington or somewhere, he delivers apples the jail, and we just buy them from our local source."
Cowley said every meal served costs $1.54. The Bingham County Jail has 101 beds. The amount of meals served in a day varies based on how many inmates the jail is holding.
The Jefferson County Jail receives its food from Sysco Idaho. Instead of using a food service company to prepare the food, the food is prepared in house.
"We've got one person hired full-time for the kitchen and a few inmates to help," Jefferson County Sheriff's Office Lt. Josh Bush said. "That full-time person is a just a supervisor behind the kitchen to take care of everything."
Bush said that because they prepare the food themselves, Jefferson County Jail staff don't assess a cost estimate per meal. He did say the jail spends around $4,000 a week on meals for the 85 to 105 inmates being held on average.
IDOC spokesman Jeffrey Ray said IDOC buys its food through food providers that have been awarded contracts based on competitive bids. For fiscal year 2018, contracts were awarded to Meadow Gold Dairies for milk, Grasmick Produce for produce and Sysco Idaho for the rest.
Ray said IDOC's meals come out to an even $1 per plate. In fiscal year 2018 IDOC spent an average of $576,101 a month on food.
IDOC Dietary Services Manager Jessyca Tyler said prison food consists of an entree, bread, salad and some kind of fruit.
If getting up close and personal with prison food isn't on your bucket list, IDOC shared some photos of the typical meals.
Courtesy IDOC
Courtesy IDOC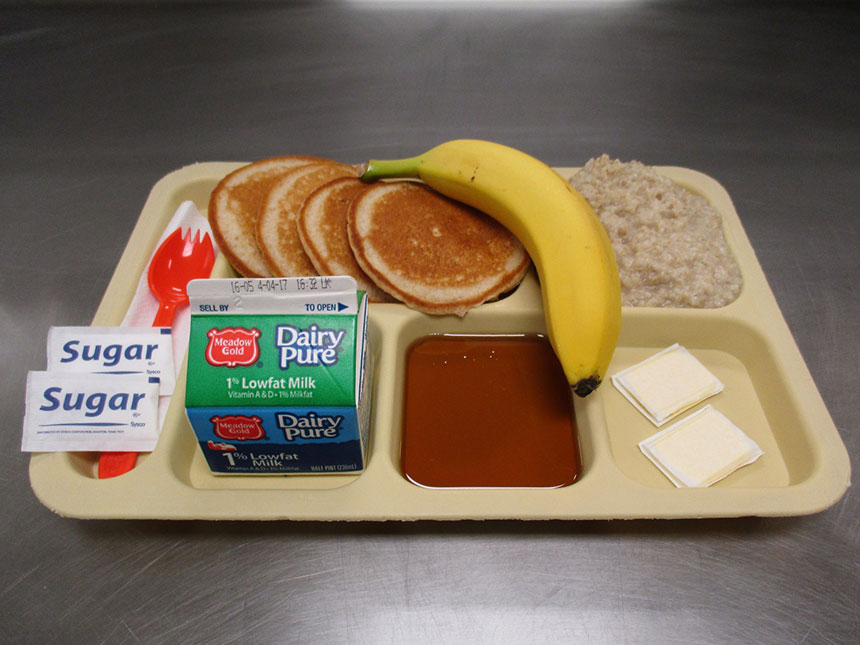 Courtesy IDOC
Courtesy IDOC
IDOC's chili recipe