Couple who lost home in fire now own thriving business
Published at
|

Updated at

IDAHO FALLS – People who get up and go to work every day often say sarcastically they are "living the dream," but when Senessa Tiffany utters that phrase, she really means it.

She and her husband, Jacob, bought the Kiwi Loco inside Sagewood Plaza next to Ferrell's in Idaho Falls a year ago, and they say they love every minute of it.

"Seeing our business from what it was a year ago to now, that's so rewarding. And looking from now into June … we have so many ideas for this we're really excited about," Senessa tells EastIdahoNews.com.

But living in Idaho Falls and owning a frozen yogurt shop was never part of their plan. As Senessa looks back on the last several years, she's amazed at the drastic turn of events that brought them here.

The story begins in November 2018 in Paradise, California, where Senessa was living with her family. They went on a trip to Disneyland on the other side of the state.

While they were gone, tragedy struck in their hometown. A downed power line triggered a fire in Pulga, 29 miles east of Paradise. The fire spread rapidly into Paradise, destroying the homes and businesses of more than 26,000 residents.

"We lost everything," Senessa says. "If we did not take it to Disneyland, we don't have it."

RELATED | California wildfires kill 31 people, with more devastation to come

The fire ravaged Northern California and became the most destructive wildfire in the state's history. With nothing left and nowhere to go, the Tiffanys came to Idaho Falls to stay with family.

"When we moved here, I had four suitcases for four people, and 99 percent of it was donated," she says. "We looked at it as our chance to start over."

Over the next several months, they found a place of their own and started thinking about opening a business. Kiwi Loco came up on their radar one day as they were searching Facebook Marketplace. After some research and reflection, they decided to purchase it.

Never having owned a business before and having no restaurant experience, the couple went to work to make something out of a struggling business. It hasn't been easy, she says, but it's been worth it.

"People have been so welcoming," Senessa says. "We get snippets of people's lives (as they come in). It's just a frozen yogurt shop, but people sit down and talk. I've never met them before, and now we have customers that are good friends."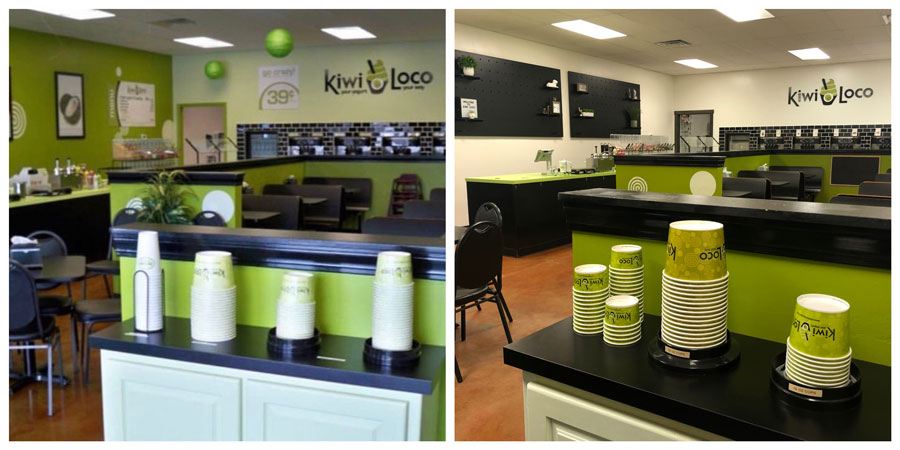 White paint now adorns the once-green interior of Kiwi Loco, and Tiffany says it's a big improvement and makes the logo on the wall above the frozen yogurt dispensers really pop.
The couple is still planning to remove the partition in the middle of the store to create an open, inviting place where people like to hang out. They're also adding a seating area for kids.
They're hoping to have it all complete this summer and are planning a grand re-opening once it's all done. Senessa says they'd like to eventually open another business, possibly even another Kiwi Loco.
"We're movers and shakers. We like to keep going. We like to get it done," she says.
Kiwi Loco offers 10 different flavors of frozen yogurt and 36 different toppings. The Tiffanys are considering adding some new items to the menu as well.
The restaurant is at 3198 S. 25th E. in Idaho Falls. It is open from noon to 10 p.m. Monday through Saturday and noon to 8 p.m. Sunday. Visit the Facebook page for more information.