Special needs kids develop courage, determination at local climbing event
Published at
|

Updated at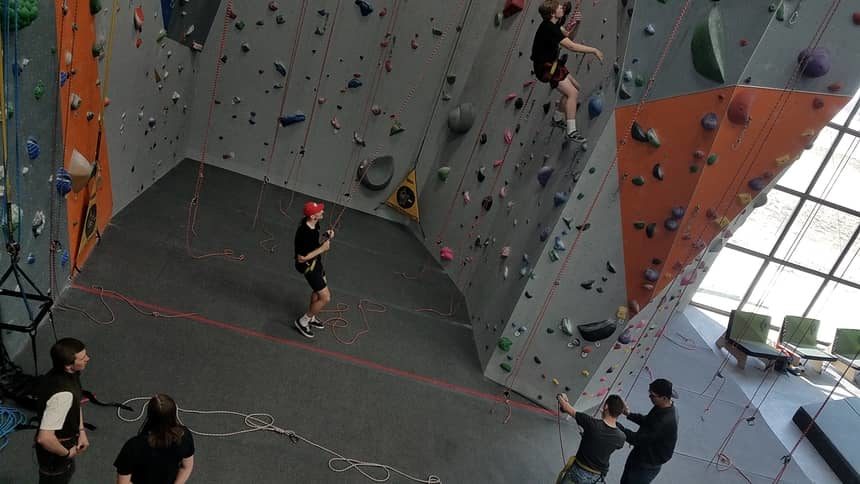 REXBURG — Courageous Kids Climbing rolled into The Rock Gym in Rexburg on Monday for an afternoon of rock climbing fun for kids with special developmental and physical needs.
The event gave the kids a chance to challenge themselves, develop courage and discover capabilities they may not previously know they possessed. Courageous Kids provided special equipment and assistance and The Rock Gym provided the climbing walls free of charge.
"It started off that the climbing was a fun event," Courageous Kids Executive Director Jeff Riechmann told EastIdahoNews.com. "But it's now also a therapeutic event. We're finding with some of the kids with some of the intellectual challenges, the event is helping with their focusing skills. It helps with their problem-solving skills. It gets into working with their coordination: hand/eye, hand/foot, right side/left side. It's a confidence builder and with many of the kids, it lessens their fear of heights."
The Rock Gym was excited to host the Courageous Kids event and be part of the process of these kids' development and acquisition of new skills. The event required some special prep measures to ensure the kids stay safe and have a good time.
"This is our first event of this kind," said Rock Gym employee Logan Hulstine. "As far as special preparation goes for this, (Riechmann) actually came with a lot of extra gear. We set up a pulley system for any individuals who are unable to climb and just want to get to the top. Riechmann and his deal are the only organization that provides a way for anybody to get to the top of the wall with that system."
Hulstine says there is a noticeable difference in the kids from when they first arrive at the event to when they leave.
"It's kind of an exponential increase of excitement," he said. "They come in and sometimes they're excited, buzzing with stoke, or they're really nervous. Once you get their harness and shoes on, warm up a little bit. By the end of the time, they're having a good time and not even scared anymore."
It's a process Reena Lyon witnessed her daughter, Izzy, go through during the event.
"I think (Izzy) was excited," said Lyon. "I think she was a little nervous, too. I think it's been a net positive experience overall. She was nervous, she overcame that nervousness and she had a successful climb, even though it was four feet off the ground. That's a victory for me."
"I think the next time it's time to try something new, I'll be able to look back and say 'Hey, remember when we went climbing and you were nervous and you did it anyway and you survived? Now, we can try this other new thing and you will survive this as well,'" she added.
The event was also a success for Tyler Durfee, who participated in the climbing. As an avid climber who hadn't been climbing in some time, he relished the chance to scale some walls.
"I haven't climbed in a while," he said. "I loved climbing when I was younger. I was a bit out of shape and I had a harder time climbing because I couldn't climb on the ceiling like I did when I was a kid. So I wasn't as excited, but when I came here, my hopes went up and it was so amazing."
Durfee said that rock climbing sharpens a lot of skills people who don't participate in the sport might not guess are involved, including the ability to strategize your next move.
"Think about it like chess," he said. "I'm going to move this and then I'm going to move this here and then I'm going to move this here. So maybe there's a really hard spot that you need to reach up, so you're going to move your right foot up and then you're going to stand on your left foot and grab the tall right rock."
East Idahoans hoping to strengthen their strategy skills can contact the Rock Gym or other local climbing venues. They can also look forward to other Courageous Kids Climbing events later this year, with one set to take place in Driggs on October 23. Efforts are also currently underway to set up another event in Pocatello this fall. Visit the Courageous Kids Climbing Facebook page to stay up-to-date.