Understanding your plant's needs will help you choose the right spot to place it
Published at
|

Updated at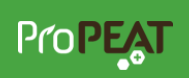 In the Garden is sponsored by ProPeat, which is dedicated to delivering solutions for any of your professional fertilization needs. Whether you need to reduce the harm to soils and the environment, or you're interested in the latest nitrogen, carbon and biochemical technologies, ProPeat is the perfect fit.
When deciding where to place a plant, it's always best to select the right plant for that particular location, rather than trying to change the location to accommodate the needs of the plant.
Blueberries, for example, need a slightly acidic soil, and unfortunately, it's never worth the cost and labor investment to attempt to get them to grow in eastern Idaho.
I like to first consider the climate aspects of each part of my yard, and then choose what would grow best in that spot. I divide my yard into categories based on how much irrigation it receives, how much sunlight it gets, how hot it can be in the summer, and how bad the wind is in that spot. In places with higher moisture and shade, I would choose perennials like hostas, sedges, lesser periwinkle, leopards' bane, wild ginger, and sweet woodruff. These plants will enlarge over time and help to fill in an area, and some of them can be a little spreading in their growth habit.
I could also plant annual flowers for this site, and some good choices would be wax begonias, impatiens, and coleus. If I didn't want to water these plants as much in this location, and only irrigated them once weekly or bi-weekly then heuchera, columbine, wild geraniums, and bleeding hearts would be good choices.
In locations that receive hot sun and sometimes drought conditions, some good choices are blanket flower, gaura, stonecrop, wallflower, and anise hyssop. Other heat-tolerant annuals include cosmos, sunflowers, and four o'clocks. Annuals need irrigation more often than perennials since they have to develop a root system from scratch.
There are limitations to what these plants can handle whether they be perennials or annuals, and some spots in your yard are just too brutal for them to survive. Planting them next to an asphalt driveway where the heat radiates off the pavement is not a good location because it heats up the plant to an abnormally high level. The constant exposure to pollution from car exhaust isn't helpful either.
I recently planted my home orchard consisting of apples, pears, plums, apricots, and peaches. The placement of these trees was important, with the trees most susceptible to eastern Idaho's ever-changing climate being put in the most protected location. I planted the peaches where they will be protected by an 8-foot tall windbreak fence and I planted the apples on the other side of the orchard where there is the least amount of available wind protection. All the other trees were planted in between them, to give them the best chance and protection possible.
For further gardening tips, contact Lance at (208) 624-3102.