How you can help your trees endure cold winter temperatures
Published at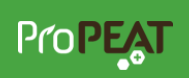 In the Garden is sponsored by ProPeat, which is dedicated to delivering solutions for any of your professional fertilization needs. Whether you need to reduce the harm to soils and the environment, or you're interested in the latest nitrogen, carbon and biochemical technologies, ProPeat is the perfect fit.
Trees are finally going into fall dormancy. Much of the spring and summer damage we see on trees can be traced back to what happened the previous fall. Here are some ideas to help your trees make it through the winter.
First, select the right tree for the location and climate zone. Although we are technically in zone 5, I encourage people to select trees that are rated for zone 4 or colder. The USDA climate zone is calculated by the average coldest winter-time temperature over the 30 years prior when the zone map was developed (most recent — 2015). Half the time it can be significantly colder. The plant's cold tolerance is based on its ability to survive the average cold temperature of the climate zone and may see serious damage at the lower temperatures of that climate zone. If you insist on selecting plants that are marginal for our climate zone, be prepared for disappointment.
If your trees are already selected, what can you do to help them make it through the winter?
Irrigation
This fall has been quite dry, even with the recent, heavy snow. Drought-stressed trees are more susceptible to winter and spring damage. The roots need adequate moisture and oxygen for winter survival. In addition, dry, spring soil introduces more stress when the buds break. A fall irrigation of 2 – 3 inches, covering the area from the trunk out to as far as the tree is tall, needs to be done before the ground freezes.
Fertilizer
Do a soil test to see if there are nutrient deficiencies in your soil. Trees near the lawn area will typically obtain sufficient nutrients from your lawn fertilization program. Trees or shrubs with perennial iron deficiency problems will benefit from a fall application of chelated iron (EDDHA formulation).
Young bark
Young trees are susceptible to southwest winter scald, some more than others. This is when the dark-colored bark of the tree trunk is exposed to sunlight (either direct or reflected off snow), fluids start to flow and then it freezes. This damages the tree's vascular tissue and often a secondary infestation of borers in the damaged areas will occur.
A couple of things can be done to help these young trees:
Wrap the trunk with white tree wrap material. This should be able to breathe and should be removed once the buds start to expand in the spring.
Paint the trunk and main branches with a white, interior latex paint, diluted 50% with water. This whitewash paint will reflect the light rather than absorb it, allowing the bark to remain dormant.
Evergreens
Not much needs to be done for evergreens. A proper fall irrigation will help reduce brown needle tips caused by spring winds. Evergreens planted this fall would probably benefit from a burlap wrap until the roots can become established.
There is not much that can be done when the temperature does a sudden, dramatic drop, which happens fairly often in eastern Idaho. This can cause damage to even the hardiest trees, and we have to accept it as a challenge of where we live.
These simple things can help your trees weather the winter.