More fiber installations, road projects coming in 2023, Idaho Falls mayor says
IDAHO FALLS – While the world is in turmoil, what makes the most sense is investing in our city.
That's the message Idaho Falls Mayor Rebecca Casper started with during her annual State of the City address at the Holiday Inn at 2005 South Fork Boulevard inside Jackson Hole Junction.
Hundreds attended the lunch event, hosted by the Greater Idaho Falls Association of Realtors.
Casper began her remarks by citing the World Economic Forum's global risks report, in which it describes the current economic threats across the globe as "compounding crises." These threats will continue to have a long-lasting impact across the nation and in Idaho Falls, Casper said, and she pointed out some specific local examples.
"Supply chain woes and labor shortages have constricted the ability of local homebuilders and developers to construct housing in an efficient manner," Casper told the crowd. "Major road improvements, particularly 17th and Holmes … there were no bidders for a (planned) construction project."
Inflation and rising fuel costs also led to some projects being postponed, she said, and the threat of a potential economic downturn has an impact on the city's planning efforts.
"When you factor in the fact that the property taxes we pay this year are based on last year's values, we know that any downturns will take an extra year for us to feel the effects," Casper said.
But Casper's remarks weren't all negative. Despite these factors, Casper says the accomplishments of the last year give residents every reason to be optimistic and hopeful about the future. She touted numerous benefits that have come from investing in the city's growth and development throughout 2022.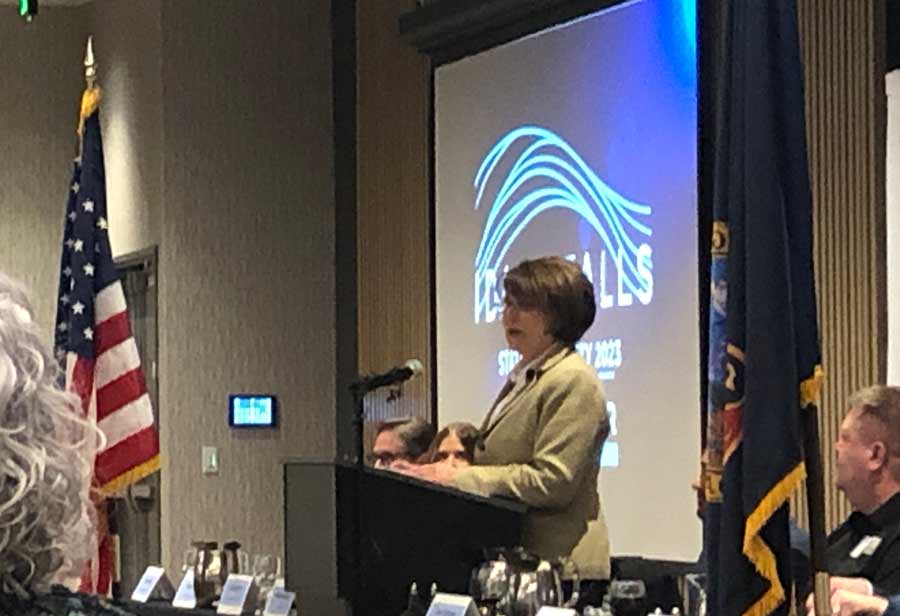 One of those is the construction of the new 76,000-square-foot Idaho Falls Police Complex at 701 Northgate Mile. The building will allow every aspect of the department to operate in the same building for the first time in its 127-year history, and Casper says police are on track to move into the building in early 2024.
RELATED | Idaho Falls Police Complex on track for completion next fall
Take a ride
And with 636,739 passengers flying in and out of the Idaho Falls Regional Airport, Casper said 2022 was a record-breaking year, and those numbers are expected to rise in 2023 as expansion projects continue.
"We are the second-busiest airport in Idaho by far, and Boise better watch out," Casper said.
Expansion efforts will focus on "behind the scenes" improvements to help staff, TSA officers and ground crews "be safer, warmer and more efficient."
But that's not all the updates she had on transportation. Since the rollout of the Greater Idaho Falls Transit service last June, more than 44,000 rides have been given, and Casper expects that number to double in 2023.
Making an impact
Impact fees, which contractors pay to the city for construction projects, were also implemented for the first time in 2022. Casper says these fees promote growth because it removes "some of the burden off of existing residents who normally would foot the bill."
"The year ahead is filled with even more opportunity," Casper said.
RELATED | Impact fees could become a way to fund growth and development projects in Idaho Falls
Fiber
One of the city's goals in 2023 is to have the capacity to serve every resident with state-of-the-art fiber optic technology.
"That's a very audacious goal, but it's very real and attainable. In fact, we're very close," said Casper. "By the end of 2023, our installation will be about 95% complete."
Roads
Casper also announced several road construction projects in 2023, pending any labor shortages that might exist. Dual turn lanes will be added at the intersection of 17th and Woodruff, and the ability to turn left will be eliminated for drivers turning from Rollandet onto 17th Street.
"For those of you who turn left there, sorry," Casper said as the crowd applauded. "It will be so much safer."
An additional northbound lane will be added on North Woodruff Avenue between Lincoln Road and Yellowstone Highway. The Pancheri Bridge is scheduled for deck resurfacing.
The city will also work with the Idaho Transportation Department to repair all the potholes on city streets. And why hasn't the city already started repairs?
"Wintertime cold weather fixes that we might see on potholes are always temporary at best. Sometimes we fill them in and they pop right back out in less than a month. You just can't fix them until the warm weather comes," she said.
Funding obtained from the state's settlement in the opioid lawsuit will be used for the creation of a police-assisted recovery initiative. The purpose of the initiative is to assemble a response team of multi-disciplinary professionals to help those who struggle with mental illness and addiction.
'Idaho Falls' future is bright'
Casper started to tear up in her closing remarks as she expressed her love for the city of Idaho Falls and its people.
"I want you to know that I know who I work for. People sometimes say, 'I bet her neighborhood is plowed first.' It's not, just ask my neighbors," she said as the crowd laughed. "We do what makes sense to serve the citizenry best and … despite any challenges we might encounter, we continue to prosper as a community.
"Today, I can close by confidently telling you that Idaho Falls is a beacon of hope in eastern Idaho, and eastern Idaho is a beacon of hope in a world that's still reeling," Casper added. "The state of our city is strong, and Idaho Falls' future is bright."