SCHIESS: A spring break from Idaho at Zion National Park
Published at
Sometimes an escape from the cold, wet, snowy weather of southeastern Idaho is necessary for one's mental health and an invitation to bask in the warmth of southern Utah with free room is too tempting. I could not believe that 70 degree days awaited us as my wife and I drove through torrential rains and snow from Rexburg to Cedar City, Utah.
But in the one hour drive from Cedar to St. George the mountains changed from white to red and the heater in the car was eliminated as the outside temperature reading went from 38 to 68. The bumper to bumper of cars and trucks heading north on the Sunday afternoon indicated we might have Zion National Park to ourselves on Monday.
Bill Schiess, EastIdahoNews.com
Not so – half the Arizona and California schools were out for spring break and half of them were at Zion on Monday. It would take us three hours to travel 30 miles before we would start our first hike of the day – the trail to Observation Point.
Starting up the trail with a herd of humans did not deter us as I was assured by our host that they would thin out; and she was right as half of them headed to Weeping Rock, a quarter of a mile from the bus stop. About two-thirds of the half-herd took the next junction to Hidden Canyon but we were headed for grandeur things – the trail to the East Rim or Observation Point.
Bill Schiess, EastIdahoNews.com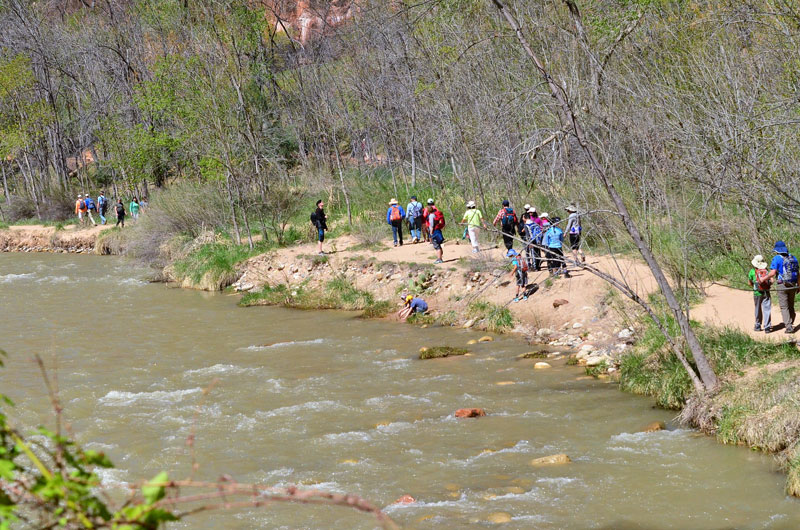 Bill Schiess, EastIdahoNews.com
One- to two-mile hikes through the flatland deserts of east Idaho had not prepared my old legs and lungs for the short four mile hike of at least 200 switchbacks and climbing 2100 feet. My legs and lungs were not my problem, but the extra insulation layer needed for an ice fishing winter and spring was the problem.
I was not the only one taking my time as I visited with people from New Jersey, Arizona, California, Massachusetts, Arizona, Florida, California, India and China. One lady after hiking two switchbacks asked if she was halfway to Observation Point and was told only 198 more to go. She started back down the trail.
A herd of four mule deer, Broad-tailed humming birds buzzing the new blossoming Indian Paintbrush, the Jacob's Ladder flowers, the Blue-gray Gnatcatchers, even a Peregrine falcon and a host of other spring flowers encouraged me to take breaks and enliven my soul. The red, white, black-stained sandstone cliffs created by the Virgin River cutting through the rock over millions of years, offered a beauty that was breathtaking. Not that I needed any of my breath to be taken.
At the junction cutoff to the East Rim, just halfway to Observation Point I encouraged my two companions to turn around to head back down to hit another hike. Since I had plenty of pictures my camera went into my backpack as we headed down, but a Blue-gray gnatcatcher right on the trail quickly caused my backpack to come off, causing a major problem.
My hand touched a fur-spinned cactus, filling two fingers with pain, but that was not the main problem – I had set my backpack on another one and did not realize it until I put my pack on. Now I was in trouble as I had cactuses spines through my shirt and into my insulation layer. Hiding behind a juniper I stripped off my top and was finally able to use my extra shirt to remove most of the pain producing needles. The gnatcatcher escaped the picture taking.
Want out of this cold, dreary southeastern Idaho weather for a few days? Zion National Park should be missing a few of its spring break visitors and by learning from the mistakes of others, the warm 70-80 temps with the shining sun can give one a few days to recharge. Solar power has always been a great healer.