Locals call for comprehensive gun reform at March For Our Lives rally
Published at
|

Updated at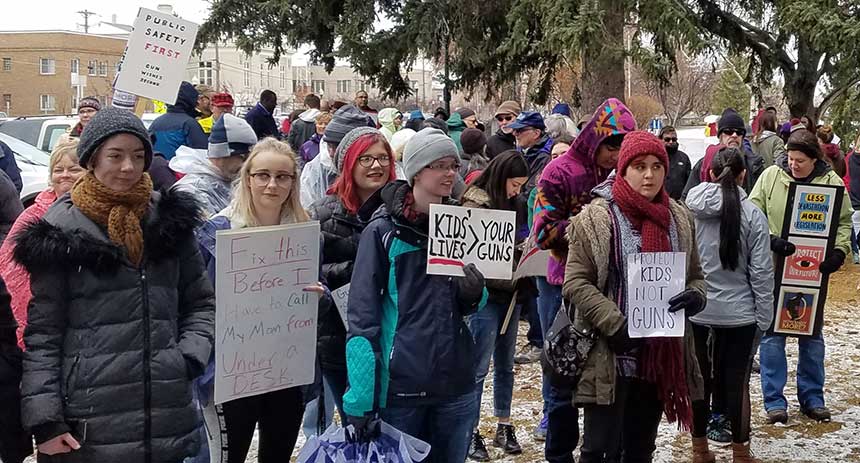 IDAHO FALLS — Around 200 people marched through the streets of Idaho Falls Saturday as part of the March For Our Lives rallies taking place all over the country.
Jacob Rich, a senior from Compass Academy, organized the Idaho Falls March For Our Lives rally to, in his words, "stand in solidarity with those marching in Washington."
Thousands marched in Boise, as well as Washington D.C. and throughout the country Saturday. The March For Our Lives movement was sparked by a group of survivors from the Marjory Stoneman Douglas High School in Florida where 17 students were killed during last month's mass shooting.
Rich said they are marching to urge Idaho legislators to create more gun control legislation.
"We're not asking for any infringement of the Second Amendment — just to keep our kids safe," he explained.
At the end of the march, Matt Kilburn, president of the Idaho Young Democrats, said this is not a political issue.
"The lives of our children should never ever be a political issue," Kilburn said in his speech. "So, why are we here? What do we need? We need comprehensive gun reform in this nation."
Matt Kilburn addresses March For Our Lives crowd. | Mike Price, EastIdahoNews.com
Kilburn said although the march itself is not a political issue, gun reform is. He went on to question Idaho's legislators who have received money from the NRA.
"Mike Crapo, you have received $29,300 from the NRA, pricing each of our children (Idaho students) at 10 cents," he said. "Was it worth it?"
Kilburn went on to do the same for Sen. Mike Simpson, gubernatorial candidate Rep. Raul Labrador and Sen. Jim Risch.
Marchers carried signs with statements such as "I want to be safe at my school," "love kids not guns," and "ban assault rifles."
A small group of counter-protesters also attended the rally. They carried signs that said "shall not be infringed," and "we don't blame cars for drunks so why blame guns for violent crimes?"
Counter-protesters | Mike Price, EastIdahoNews.com
Two of the counter-protesters openly carried AR-15 rifles. Open carry is legal in Idaho.
During his remarks to the crowd, Rich gestured to the counter-protesters and said people need to come together and not be so divided to be able to find solutions.