Communities remember two teens who died in Fremont County crash
Published at
|

Updated at
SALEM — A small Idaho community was struck with tragedy this week after two teenage boys were killed in an crash on U.S. Highway 20 on Tuesday.
Teagen Bradshaw and Tanner Nicol, both 17, were getting ready to start their senior year at Sugar-Salem High School this month. The two boys were remembered among the community as best friends who would often include others in activities like dirt biking at the sand dunes.
At a vigil attended by hundreds Thursday night in Salem, several peers stood up expressing how they would often hear the pair zipping by on their dirt bikes and how they always seemed to bring a smile to the faces of those around them.
Friends of Bradshaw said they remember often going to his home and he would offer whatever food and soda was in the house. He was always welcoming others to be his friend. Bradshaw's family was unavailable for comment.
RELATED | 2 juveniles killed in crash on Highway 20
Joel Nicol, Tanner's father, said the first thing that comes to mind when he thinks of his son is how he was a kind, loyal friend. He also said Tanner was a great older brother to his sisters.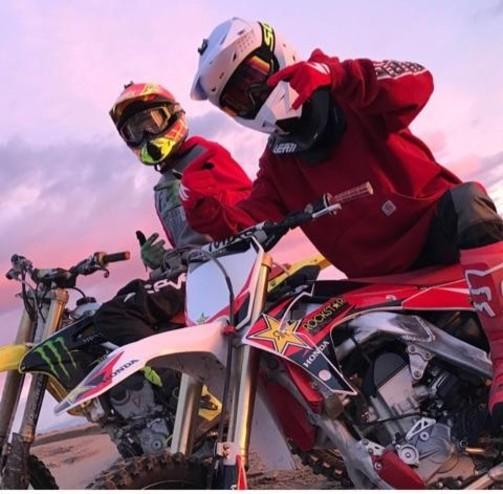 Teagen Bradshaw and Tanner Nicol enjoying their favorite past time of dirt biking. | Courtesy Joel Nicol
"It's going to be rough — they were two peas in a pod," Joel Nicol said of the relationship between Tanner and his oldest sister.
Joel Nicol said Teagen and Tanner were the best of friends. He says they didn't even have to talk to one another to know what the other was thinking.
"It brings some comfort he was with Teagen, and they were together," Joel Nicol said. "They should've been twins."
The two teens were killed after their vehicle crashed into a fuel tanker that was stopped at a railroad crossing in Fremont County. The exact cause of the wreck has not been determined, and it remains under investigation.
Funerals for both boys will be this Saturday, Aug. 11 at the Salem LDS Chapel, 3462 N. Salem Road in Rexburg. For Bradshaw services will be held 10 a.m., and for Nicol at 2 p.m.
A GoFundMe has been set up to help with funeral expenses for Tanner Nicol.