New clinic offering 'one-stop-shop' healthcare opens this month in Idaho Falls
Published at
|

Updated at

IDAHO FALLS – Imagine having a mini Mayo Clinic right here in eastern Idaho.

That's how Dr. Fahim Rahim and others are describing the new Comprehensive Care Clinics opening later this month in Idaho Falls.

The new clinic, Rahim says, will be a one-stop-shop that provides quality medical care at a lower cost.

"We will have a team of specialists — heart doctors, kidney doctors, along with orthopedic, spinal and pain surgeons (and others) all under one roof," Rahim tells EastIdahoNews.com. "You can see your family doctor in one corner. If you also need to see an orthopedic surgeon, you can just walk upstairs and get an X-Ray on your knee. If the orthopedic surgeon decides you need surgery or some other procedure, you can get it done right here. You can get the labs done here and even visit a pharmacy."

RELATED | 15 doctors launching unique health care model in east Idaho

Rahim says the quality of care and the cost to the patient improves by having all the staff and resources in one location. The team will include about 16 board certified physicians, many of them fellowship trained, (meaning they have additional training beyond their medical degree), and another 20 or so surgeons and specialists.

"When specialists get together and see the patient at the same time, the patient gets a unified (solution) to their problem," says Dr. Jack Lassetter, an interventional cardiologist with the clinic.

It also eliminates errors and delays in medical care, Rahim says, which can cause further complications.

Another way the clinic will lower the cost to the patient, according to center CEO and Administrator Blane Uthman, is by trimming the fat, or eliminating extra fees, from the bill.

"Instead of using any savings to add to our profit margin, we will take it off of what we will charge the patient," he said.

While Comprehensive Care Clinics will operate independently of other hospitals and clinics, the new center will work in partnership with them. Rahim says hospitals are always needed and they're not trying to put anyone out of business.

The creation of the Comprehensive Care Clinics stems from a conversation between Rahim and other medical professionals over the last five years.

"The gist of that conversation was that our current healthcare system is broken and it's so fragmented," Lassetter says. "You're (currently) getting super sub-specialty clinics that are so fragmented that people can't get in to them for months. By the time someone (finally does see) all the specialists they need (to visit), the disease process has changed. So what we're trying to do is better coordinate that care."

Rahim says the current health care model is volume based, meaning the more patient volume an institution sees, the more money they make. Health care needs to change from volume based to value based, he says.

"The only way you can deliver value is by having models like this. This is the future of health care."

RELATED | Dr. Fahim Rahim & how he wants to transform medicine in east Idaho

The Comprehensive Care Clinics also offers several technological innovations, like a surgical robot.

"The surgeon is still directing the care and making sure everything is right, but by using the robot, (the surgeon) can input CTs and other diagnostic imaging studies, that provide micro tolerances that even the best human being can't provide by themselves," Uthman said. "This leads to shorter recovery periods and better outcomes."
A technician managing the computer for the Catheterization Lab at Comprehensive Care Clinics | Rett Nelson, EastIdahoNews.com
The Surgical and Outpatient Cath Lab Center opened Nov. 15, but the facility will be fully up and running Monday, Dec. 17.
Comprehensive Care Clinics, in partnership with Bingham Healthcare and Eagle Rock Surgery Center, is hosting a ribbon cutting and open house for the public Dec. 17. The event will get underway at 5 p.m. State and local leaders will be in attendance along with special guests from the North Pole. There will also be food and live entertainment.
"I would invite everyone in the community to come visit and learn about what we're doing," Uthman says. "We've put together a beautiful state-of-the-art facility that doesn't feel like a hospital. We want people to come to a place where they feel comfortable. It's bright, it's airy, and it's not the typical experience you (will) have in a hospital."
The Comprehensive Care Clinics is located at 3302 Valencia Dr. in Idaho Falls.
"This is something that's never been done, other than at the Mayo Clinic," Lassetter says. "We (want to show) that we can improve the quality and value of healthcare and change the way it's delivered in our community."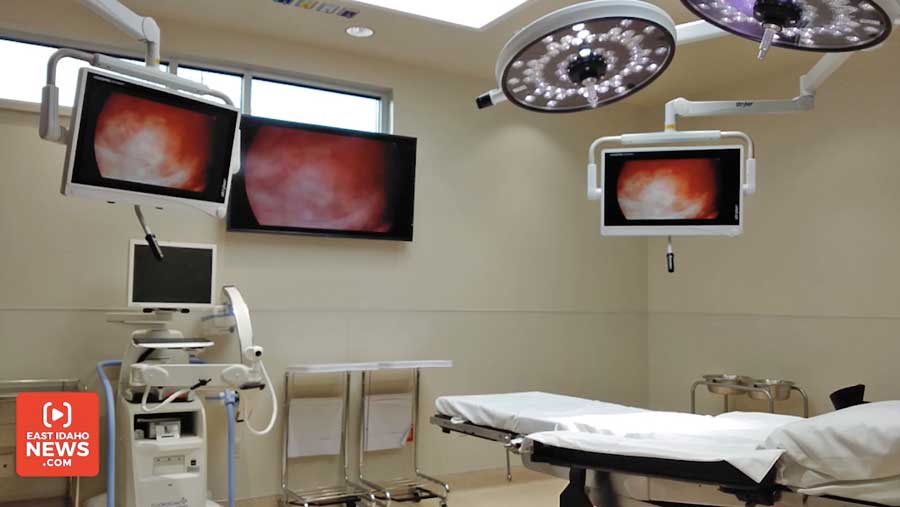 Video equipment inside one of the clinic's surgery centers | Rett Nelson, EastIdahoNews.com