LaBelle Ice Palace facing lawsuit for alleged patent violations
Published at
|

Updated at

RIGBY — What's quickly become a new winter tradition in east Idaho is under fire from a similar company based in Utah.

"It would break my heart if we had to shut down," LaBelle Lake Owner Jim Youngstrom says.

LaBelle Lake Ice Palace in Rigby is being sued for alleged patent infringement by Midway, Utah business Ice Castles. Ice Castles, which operates a number of similar businesses across the United States, is accusing LaBelle of copying their methods and branding. Early last year, Ice Castles sent a cease and desist letter demanding LaBelle stop operating immediately.

"When we received the threats from the owner of Ice Castles, he said that he has an exclusive right to freeze ice-to-ice, and we're like, 'How do you have a patent on that?'" Youngstrom tells EastIdahoNews.com. "He said, 'When you take one piece of ice and freeze it to another piece of ice, that's our patent,' and I'm like, 'Wow, okay.'"

Ice Castles CEO Ryan Davis tells EastIdahoNews.com the company initially became aware of LaBelle Lakes Ice Palace before its open date. He says they were using the castles trademarked business name (LaBelle Lakes Ice Castles) and their copyrighted images on a Facebook post "to advertise the winter attraction that they planned to build using the process that Ice Castles invented and patented."
But when the company opened in January 2018, their name was changed to Labelle Lakes Ice Palace.
"The day that we opened last year we received a cease and desist letter from Ice Castles, and that was very confusing," General Manager Kira Martin says.
Regarding the argument of the patented process, LaBelle Lake owners say the final product of the majestic ice structures may look similar, but the methods of making them are completely different. LaBelle owners pre-engineer their ice palace as some structures have more than one story that visitors can explore.
"I've done a lot of building. I've built a lot of log homes and so (I thought) I'm going to make ice logs. That's kind of where it began and we have a variety of different sizes of ice logs and how we put our structures together," Youngstrom says.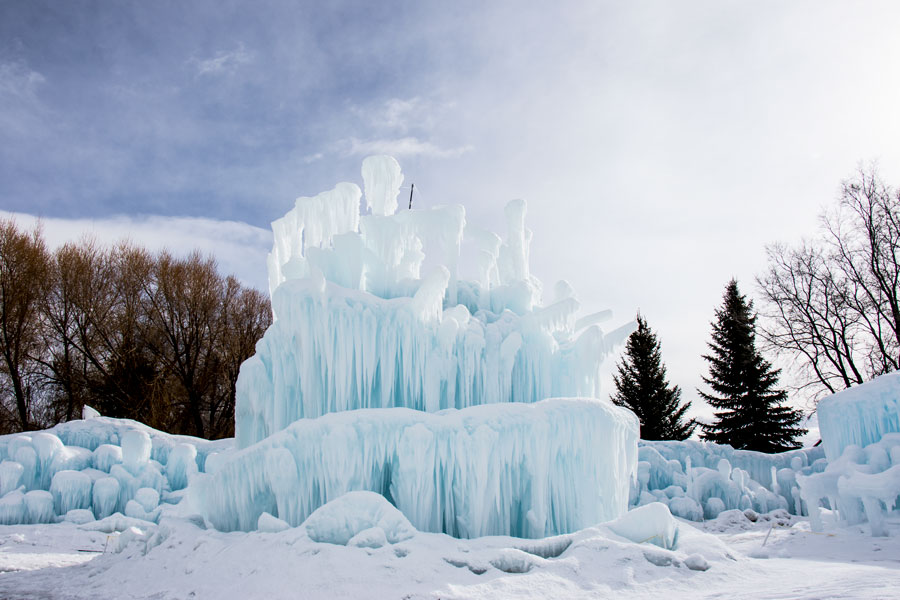 The patent for Ice Castles states their icicles are harvested in various sizes, and that "icicles are joined one to another to form a framework using a slush of ice in liquid water." Youngstrom says his process is more efficient and Mother Nature does a lot of the work after he pre-forms his ice buildings.
"If anyone infringed on their patent, I would totally support them," Youngstrom says. "We're not doing that and they want a monopoly and they're the only ones in the United States doing this."
Martin says, at one point, owners of Ice Castles requested a percentage of LaBelle's profits.
"Since we're not even using their system, that seemed pretty messed up to us so we weren't going to do that," Martin says.
Davis continues to say Ice Castles' legal team investigated the patent issue and determined LaBelle Lake is in direct violation the patent.
"Ice Castles contacted the owners of LaBelle Lake and attempted to settle this matter outside of court. Unfortunately, the owners of LaBelle Lake decided not to resolve the matter and continue to infringe on our patent, forcing us to seek legal action to protect our brand, our patent, and our company," Davis says.
After having their method reviewed by an experienced patent lawyer, LaBelle is confident their method varies from Ice Castles' and is preparing to fight the lawsuit in court. LaBelle owners are reaching out to the community through a GoFundMe page for assistance with the financial aspects of the legal battle. Money raised will go toward paying legal fees.
"We're really wanting to be able to continue to do this and grow for the community so we're just asking if people can donate. If everybody just donated a little bit, it would really help so we could continue to grow the ice palace in east Idaho," Martin says.