Camas study teams Shoshone-Bannock Tribes with Idaho State University
Published at
|

Updated at
A study on Camassia quamash, more commonly known as the Camas flower, is bringing together the Shoshone-Bannock Tribes and Idaho State University.
Spearheaded by ISU undergrad Sidney Fellows, a member of the Shoshone-Bannock Tribes, the project aims to determine the optimal growing conditions to cultivate the plant in Fort Hall so it will be more accessible for tribal citizens. These objectives are being achieved through a literature review and experiments involving germinating Camas seeds and transplanting the bulbs.
Fellows said that from the start, this Camas study has been a collaborative effort between herself, the Shoshone-Bannock Tribes and her mentors at ISU. She said she worked particularly closely with Georgia Hart-Fredeluces, an ISU post-doctoral research assistant, and Nolan Brown, Bobette Haskett and Louise Dixey of the Language and Culture Preservation Department (LCPD) for the Shoshone-Bannock Tribes. Professor Morey Burnham at ISU has also provided important guidance on this project.
"Initially, we wanted to do a project that included food, but also ecology and a social aspect," Fellows told EastIdahoNews.com. "So, we were able to work with the Language and Culture Department right from the start and ask what kind of research would be beneficial for the Fort Hall community in relation to plants, ecology and cultural aspects."
With some help from the LCPD and other members of the Fort Hall community, narrowed their focus on the Camas plant, a traditional food of the Shoshone-Bannock Tribes. Camas is a flowering plant with onion-like bulbs that has been gathered by Native Americans for centuries. Camas has become less abundant due to the conversion of its habitat, and it may be facing further threats from climate change.
Fellows said one of the project's biggest goals is to increase the plant's prominence within the Fort Hall community.
"A big goal we have is to distribute the plant in the community down the road," said Fellows. "With seed germination experiments and the bulb transplants, we're planning to distribute plants to community members and make the plant more accessible. Along with that, we're hoping to get more information on what environmental conditions support the plant's growth in Fort Hall."
Camas plant seeds and bulb. | Courtesy Georgia Hart-Fredeluces
The Camas project received much support from the LCPD at Fort Hall. The research collaboration matched with activities and projects already underway at LCPD and supported by a Centers for Disease Control Tribal Practices for Wellness (TPWIC) grant the Tribes received in 2018. Sidney's work is also supported by a National Science Foundation ESPCoR Grant called GEM3. The LCPD also has helped Fellows to understand the plant's importance to native people throughout history.
Some of the seed gathering and other experiments for this project took place at Camas Prairie Centennial Marsh. Brown described the impact that gatherings at Camas Prairie near Fairfield had on the tribes.
"It brought thousands of our tribal people there every harvest season in the past," he said. "Not just for the Camas but also for all the social aspects. They would gamble and trade. Also, there were other resources, like marmot, or 'yah-ha' we call it. It's a giant ground squirrel, but it's one of the delicacies of our people. … We really wanted to promote our Tribal Wellness grant and encourage Sidney in her research and also gather more data about the Camas Prairie because of its importance to us. Having more data and understanding about the area now helps us with continuing to go to that place, keeps us from overharvesting it. And also, like Sidney said, she wants to help us grow that plant here (in Fort Hall)."
Although this study is intended to help the Shoshone-Bannock community, its findings could lead to benefits that are felt throughout east Idaho.
"Camas is important culturally as well as ecologically," said Hart-Fredeluces. "In eastern Idaho and elsewhere, Camas occurs in seasonally-wet areas at higher altitudes. These seasonally-wet areas, or wetlands, store freshwater that we as humans depend on. Wetlands also provide critical habitat for wildlife, plants and other organisms. Indigenous peoples have taken care of these wetlands for millennia through practices like the use of fire and the harvest of bulbs. I think if the public can appreciate and the role of humans in keeping them healthy that would help support a more sustainable future for east Idaho."
"Camas is a native plant to our areas here, even if not very abundant," Fellows added. "So that in itself allows for more pollinators, more biodiversity in our ecosystem, which is an important thing to be working toward when considering climate change."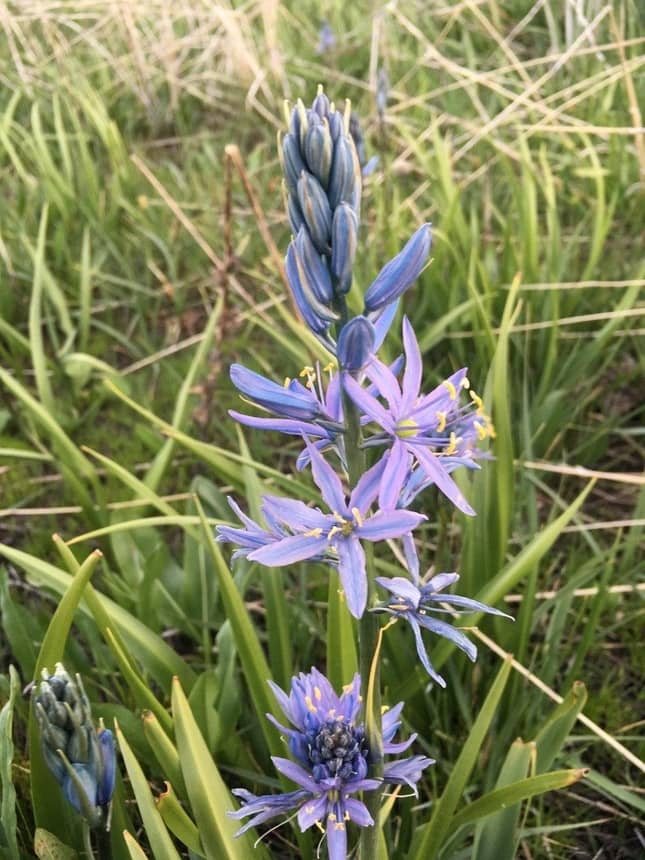 Camas flower. | Courtesy Georgia Hart-Fredeluces