Man charged with murder makes first court appearance
Published at
|

Updated at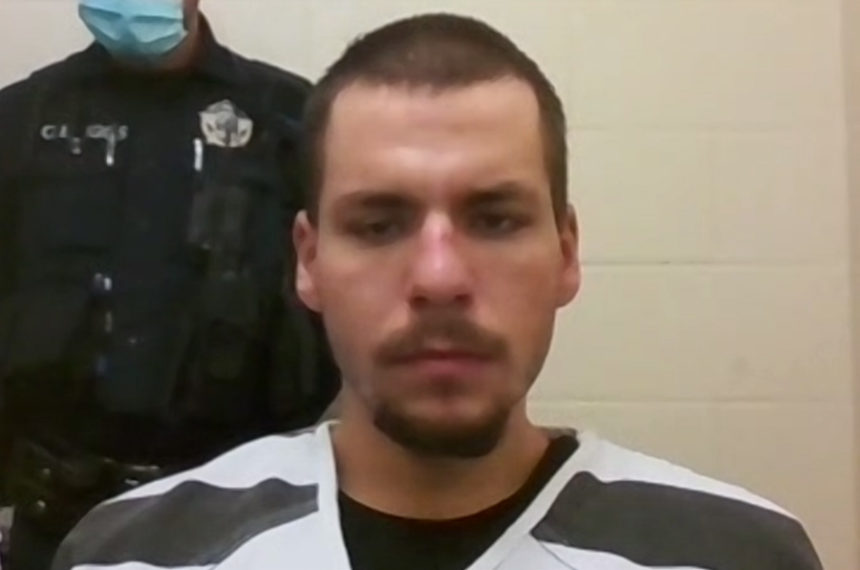 RIGBY — An Idaho Falls man made his first court appearance over Zoom on Wednesday afternoon after prosecutors charged him with first-degree murder.
Investigators say that Jesse Gentle, 21, shot and killed Merle Jay Sorensen, 72, at a Jefferson County home on Tuesday. Magistrate Judge Robert Crowley read Gentle the murder charge and the potential punishment.
Gentle appeared from the jail in traditional black-and-white stripes as two deputies stood by his side. EastIdahoNews.com was allowed to view the hearing but could not broadcast it.
When Crowley asked Gentle if he understood his rights, Gentle replied, "I got a pretty good understanding. Which rights are you going to take away from me that you have not already?"
Gentle also applied for a public defender due to his financial status. Although the form was not shown during the hearing, Crowley pointed out several items that Gentle left blank on the form, such as firearms and vehicles owned.
RELATED | Man arrested for murder allegedly used bleach to clean up the scene
"I don't know, quite a bit," Gentle said. "Fair amount (of value) if I got all them back, I reckon, but most of them all got tooken (sic) by the government. I used to have a pretty good share of firearms."
Most of Gentle's responses to Crowley were "yep" and "mmhmm."
Gentle also said he had concerns about listing the value of trucks and a Jeep he owns on the form.
"Why does it matter what they are?" Gentle said. "Why do you need to know that — so you can take them from me?"
Crowley said that was not the purpose but to help establish Gentle's qualification for a public defender. Crowley determined that Gentle, who is unemployed, qualifies and appointed the Jefferson County Public Defender's Office who could the case over to other attorneys in the future.
In Idaho, first-degree murder is punishable by death. Prosecutors have 60-days from when a defendant enters a plea to declare their intent or no intent to seek the death penalty. If death is on the table, then a death penalty certified attorney must be on the case. The Jefferson County Public Defender's Office is not among those able to represent in such cases.
RELATED | Man charged with first-degree murder after 72-year-old is shot to death
It is not exactly clear as to why Gentle allegedly killed Sorensen. Court documents indicate that Gentle, Sorensen and a witness were smoking marijuana in the hours leading up to Sorensen's death. At around 2 a.m., Jefferson County Sheriff deputies were called to the home and found Sorensen's body.
The witness claimed before the shooting Gentle said, "He has to kill five lives." Gentle did not want to share his side of the story to detectives and asked for an attorney right away.
Gentle will next appear in court on Dec. 2 in Jefferson County for a preliminary hearing. At the hearing, prosecutors must present enough probable cause that Gentle allegedly killed Sorensen for the case to move on to the District Court.
Gentle remains held in the Jefferson County Jail on $750,000 bail.