Alturas Preparatory Academy raises massive funds to finance educational goals
Published at
|

Updated at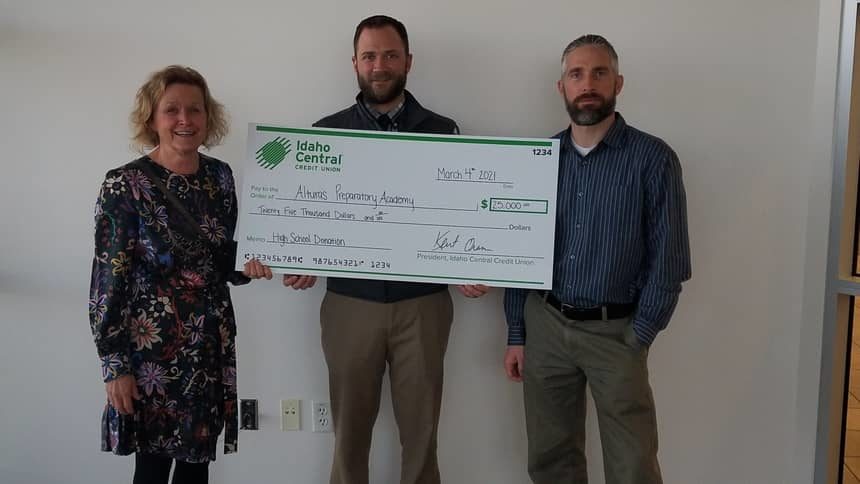 IDAHO FALLS — The Alturas Preparatory Academy school board has big plans for the future, including opening a new high school. Recent fundraising efforts have secured enough money to bring those plans one step closer to fruition.
Through grants and other donations, the academy has received $955,000 since December. About $800,000 of that money came from a grant from Idaho's "Communities of Excellence" Charter School program administered by education non-profit, Bluum.
That sum also includes 13 $10,000 donations from individuals who volunteered to be founders of the new high school, as well as a $25,000 contribution from Idaho Central Credit Union (ICCU).
On top of that, APA received a $1.76 million grant from the J.A. and Kathryn Albertson Family Foundation when the new high school was approved by the Idaho Public Charter School Commission in August.
RELATED: Alturas Academy holds open house before first day
All this money will be put toward not only renovating the old Sears building in the Grand Teton Mall into the new Alturas Preparatory Academy school but also to help utilize the education model already at use in Alturas International Academy to arm young people with the skills they'll need for life in the rapidly-changing modern world.
"We are going to be preparing kids for the 21st-century skills, with collaboration, communication, creativity and leadership," said Michelle Ball, who serves as executive director of both Alturas International and Alturas Preparatory. "We even built the school around our model. The construction is built to fulfill those 21st-century skills."
The Alturas model allows instructors to teach their students in small groups, giving each student more attention and fostering an ability to work with others. Ball said the new school will feature wide hallways and doors that will allow classes to gather together for projects. Classrooms will be able to connect to enable interdisciplinary and project-based learning.
"It's a really collaborative, open environment where students are taught at their instructional level, not their grade level," Ball said. "Wherever a student is instructionally, we just keep taking them higher and higher. So, (APA) will be a very collaborative, project-based community."
"Alturas Preparatory Academy is exactly the type of school that Idaho's competitive Communities of Excellence grant program aims to support in Idaho," Bluum CEO Terry Ryan said in a press release. "Idaho Falls is a growing community and APA provides a great International Baccalaureate opportunity for families who are looking for a rigorous academic program that can help their children excel as learners and citizens."
Alturas Preparatory Academy is scheduled to open for classes in Fall 2021. The school is open to any students living within the boundaries of Idaho Falls School District 91, Bonneville Joint School District 93 or Shelley School District 60. The school will offer classes to grades 6 – 10 in its first year, expanding to cover grades 11 and 12 in subsequent years.
An enrollment lottery is currently open for families that wish to attend APA. There is also room for more individuals that would like to be founders. Founders get various benefits including automatic admission into the school for their kids. You can find more information on the Alturas website or on their Facebook page.
Courtesy Jeff Carr