Planting a shade garden? Here's what you need to know
Published at
|
Updated at
Trees and structures alter the light in our yards. The light under trees can vary from dappled shadows to deep shade (almost no direct light). This light variation provides an opportunity to be creative with plants that vary from green foliage to beautiful flowers.
These lighting conditions may require the selection of different plants. Full-sun indicates six or more hours of direct sunlight; partial shade is four to six hours of sunlight; full shade is less than four hours; and deep shade is almost no direct light.
There are many more beautiful plants that will tolerate at least partial shade. Most spring bulbs will do well in partial shade, and the bloom will last longer than in hot, sunny locations.
For pictures and more information on these and other ornamental herbaceous plants visit our Idaho Landscapes and Gardens website.
Master Gardeners are sponsoring a gardening convention that is co-hosted by University of Idaho Extension and BYU-Idaho at the beautiful BYU-Idaho Thomas E. Ricks Gardens on June 23 from 8 a.m. to 4 p.m. Hands-on activities will include drip irrigation, bud grafting, sprayer calibration and much more. Pre-registration is $35 (by June 16) and $40 at the door. Pre-registration will help us have enough lunches for all attendees. To register, email Cheryl at carter@uidaho.edu, or call (208) 529-1390.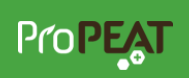 In the Garden is sponsored by ProPeat, which is dedicated to delivering solutions for any of your professional fertilization needs. Whether you need to reduce the harm to soils and the environment, or you're interested in the latest nitrogen, carbon and biochemical technologies, ProPeat is the perfect fit.