Biz Buzz: City looking to expand dining, retail options at Idaho Falls Regional Airport
Published at
|

Updated at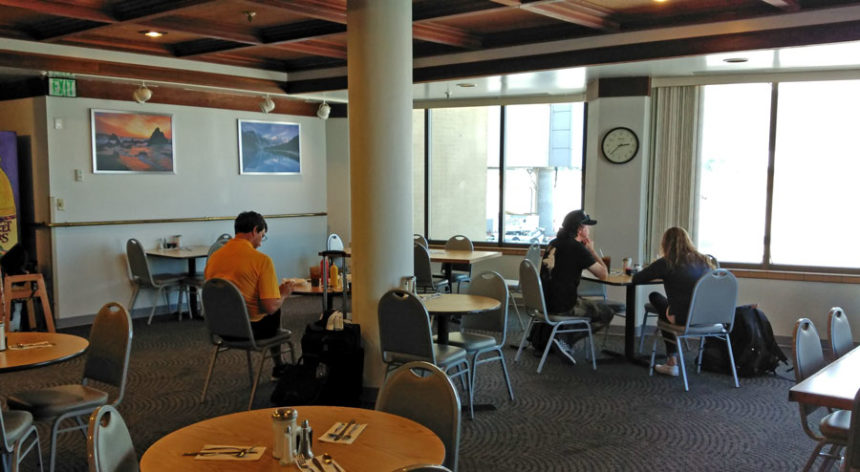 Do you want to know what's happening on the east Idaho business scene? We've got you covered.
Here is a rundown of this week's business news across the valley.
BIZ BRIEF
IDAHO FALLS
Idaho Falls Regional Airport may be getting a new restaurant soon
IDAHO FALLS – When you walk through the northern entrance of Idaho Falls Regional Airport, you'll see a baggage claim and rental car dealers. But just around the corner is one of the airport's little known features: a restaurant and lounge.
With a terminal expansion project getting underway next week, the airport announced Tuesday they are looking for a qualified vendor to develop, manage and operate the restaurant and general retail concessions located within the new main terminal building.
RELATED | Idaho Falls Regional Airport receiving millions of dollars in upgrades
"We're looking to bring in some different vendors to provide the service," says Rick Cloutier, who was installed as the airport's new director in May.
RELATED | City of Idaho Falls hires new Airport Director
Cloutier says expansions to the airport provides an opportunity to expand the services currently offered and attract more business for passengers. The airport hopes to have a deal finalized by the start of the year.
Kathryn Anderson opened the restaurant, lounge and gift shop nearly 20 years ago. She currently leases the space owned by the city and is not happy with the city's request.
"There were seven different restaurants that went out of business here. When I opened in April of 1999, the space had been vacant for several years. The number of people who come in varies, depending on the flight schedule, but we're still here," Anderson says. "We've been here for 20 years, but very few people know about us."
The additional retail space and baggage claim directly in front of the restaurant's location was added in 2001. Anderson says this is one reason for the lack of awareness about the restaurant.
Kathryn's Restaurant opens daily at 10 a.m. and caters to the airport's fluctuating number of travelers.
The airport is holding an open house in connection with the terminal expansion Thursday, September 6 from 4 p.m. to 7 p.m.
BIZ BITS
The Eastern Idaho State Fair is going to be sweet
BLACKFOOT – Every year people come from all over to enjoy the Eastern Idaho State Fair. One of the top reasons they come? The fair food selection is amazing. Whether baked, grilled, or fried, the EISF has a rich tradition of offering the best fair food in the west. So to celebrate hardworking concessionaires, we hold an annual Best Fair Food contest. FIND OUT THIS YEAR'S FOOD CHAMPIONS HERE.
Office equipment supplier opening at new location in Idaho Falls
IDAHO FALLS – Fishers Technology is opening at a brand new location in downtown Idaho Falls. Join them Thursday, September 13 for a grand reopening at their newly renovated office at 480 Shoup Avenue. There will be a ribbon cutting at 4:45 p.m., followed by a grand opening from 5 p.m. to 7 p.m. There will also be appetizers, drinks, live music and giveaways.
Local business celebrating anniversary with open house
RIGBY – Canyon Pipe & Supply Inc., a plumbing supply store in Rigby, is inviting you to help them celebrate. They are hosting an open house in honor of their anniversary. The event is happening Thursday, September 27 from 10 a.m. to 3 p.m. There will be food, prizes, vendors and day of event specials. Canyon Pipe & Supply Inc. is located at 3969 E. 400 N. in Rigby.
COMMUNITY CAUSES
Local businesses raising funds for 9/11 heroes and victims
IDAHO FALLS – Qal-Tek and Paul Davis are excited to invite you to the second annual 9/11 Fallen Heroes Memorial Tribute happening at Snake River Landing's Waterfront Friday, September 7. The event kicks off at 6 p.m. with cocktails and appetizers. Dinner will be served at 6:30. Chief Fitzgerald and Captain Calhoun of the New York City Fire Department will provide firsthand accounts and show never before seen pictures of the response. A reading of the names and a silent auction will follow their remarks. The cost to attend is $55. All proceeds will go towards helping local heroes and victims in New York City. To purchase tickets, contact Sharie Powell at (208) 709-3225.
BIZ BUGS
TOPIC: SHOPPING AT THE FAIR
The following is a news release from the Better Business Bureau.
Some fair vendors may utilize high-pressure sales tactics to convince you to make a purchase on the spot. Others may lead you to believe you are receiving a major discount, but it's important to take the time to research whether you are actually receiving a good deal. It's possible you are overpaying for merchandise or that you may encounter issues returning an item or seeking a resolution if it turns out to be defective after the fair ends.
When you attend a fair, the Better Business Bureau advises:
As with any purchase, do some comparison shopping before buying, but remember that the least expensive item may not always be the best value.
Don't feel pressured to buy on the spot. After the demonstration or sales pitch, give yourself some time to think about the purchase. Ask the vendor if a sale will be honored for a certain time frame after the event.
Research a vendor's marketplace reputation by checking their BBB Business Profile at bbb.org.  You can pull up their BBB Business Profile from your smart phone to confirm a company's BBB rating, complaint history and accreditation status.
Ask for a copy of the seller's refund and exchange policies, terms and conditions of the sale and any warranties. Make sure you understand the fine print before signing a contract or putting down a deposit. Always pay by credit card when possible.
Be selective about what information you share. There are often raffles and other offers at fairs that require contact and other personal information to qualify. Once you give out that information, you don't know how the data will be protected, whether it will be shared with third parties or how it will be used.
For more helpful tips from your BBB, visit bbb.org/scamtips.
IN CASE YOU MISSED IT…
D.L. Evans Bank opening permanent Rigby location in early 2019
A.C. Moore to officially open next week in Idaho Falls and Rexburg
Smith's, Fred Meyer to phase out plastic bags
He flew F-16s and stealth bombers, but found his true calling at a pizza shop
If you have a Biz Buzz item you want to share, send it to rett.nelson@eastidahonews.com. Remember to use "Biz Buzz" in the subject line. Also, don't forget to sign up for the free Biz Buzz email newsletter.